Plastics, Plastics Everywhere!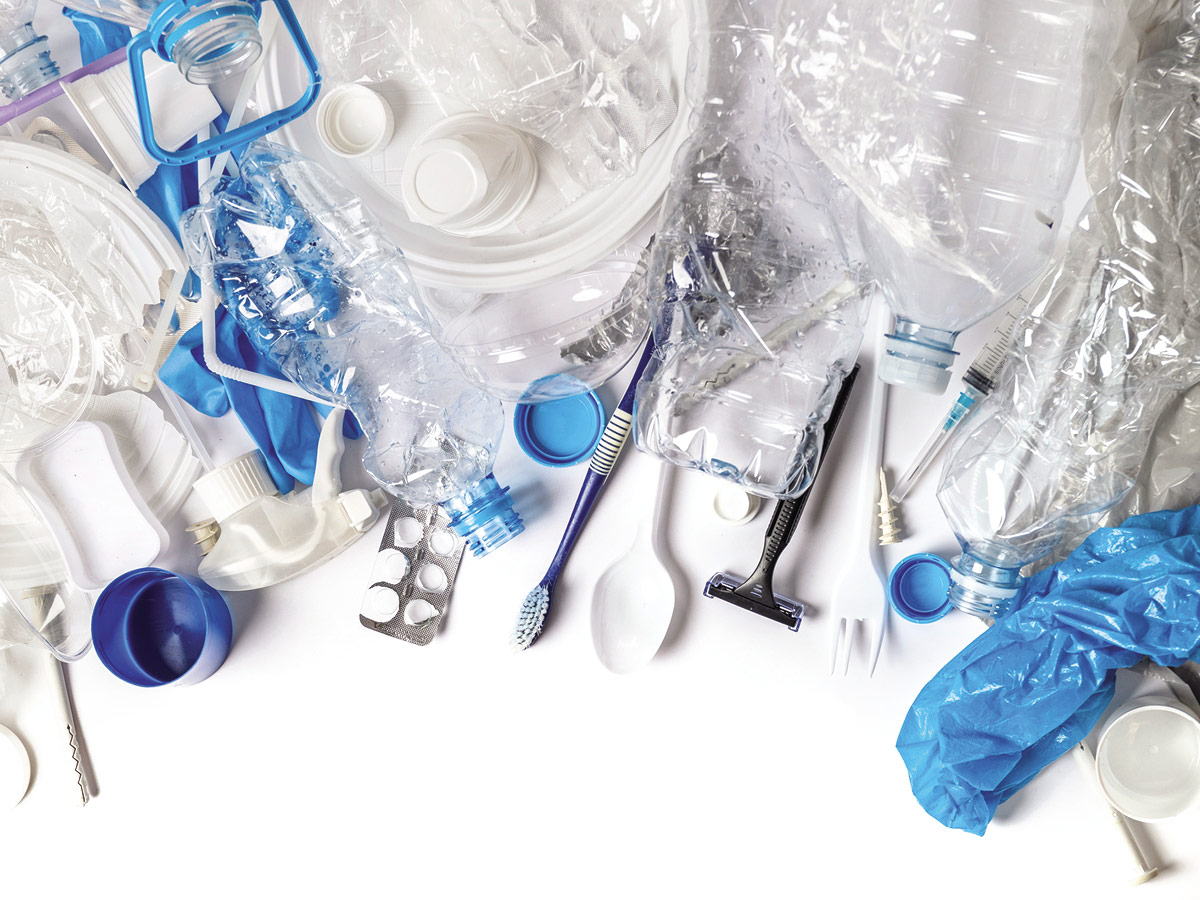 The production of the all-pervasive plastics goods has steadily increased from 2.5 million tons to 450 million tons since 1950. In fact, it is expected that the production of plastic items will double by 2050!
Why? Because virgin (newly made) plastic is far cheaper to produce than the collection, sorting, and processing of plastic waste (already used plastics). New plastic production is, therefore, outpacing the world's ability to keep up with collecting plastic trash. However, reducing plastic production to solve the waste problem only aggravates it. This is because manufacturing plastic alternatives such as steel and glass actually increase greenhouse gas emission. A curious paradox, isn't it? 
But why should we care about plastics?
After all, the whole world uses them! Plastics contain many additives which manufacturers are not required to disclose. These additives are not only harmful for humans, but also harmful for the environment. For example, millions of tons of plastic waste (above 65 % of the total waste) entering the oceans each year are contaminating our entire food chain. Nearly eight million tons of plastic straws and disposable water bottles pollute the world's beaches daily. Further, marine biodiversity is being destroyed due to entanglement, ingestion of, and chemical poisoning from plastics. Plastic waste outnumbering baby fish 7-to-1 in coastal ocean slicks, which are the nurseries for larva, is an alarming testament to this destruction.
For us humans, plastics in our oceans are equally concerning, seeing as more than 50% of our oxygen comes from oceans. As a result, the destruction of marine biodiversity makes the oceans a less robust source of oxygen. To make matters worse, infants ingest about a 1 million micro-plastics from (polypropylene) plastic bottles, which when heated for sterilization and formula preparation, release micro-plastic waste. Products like kettles and lunchboxes also release micro-plastic waste, which is a breeding ground for pathogens and antibiotic-resistant bacteria. These plastics (made from PET – Poly-Ethylene Terephthalate, found in the packaging for foods and beverages) take upwards of 450 years to decompose! Plastics sure do like to hang around! 
Clearly, plastics in the home and environment result in devastating impacts to health. But where does plastic waste come from? Nearly 25% of the total plastic waste generated worldwide comes from hospitals. A single medical procedure can produce up to 10 kg of waste (the weight of a car tire), most of which is single-use plastics. Imagine the waste produced in just one day! A month!
The car industry isn't an ally to reducing plastic wastes either. While plastic vehicular structures are economical, less than 10% of their waste is recycled, while 75% ends up in landfills. The rest is burnt, which releases toxic gases. Tires, which have about 10% of natural rubber and 25% of synthetic rubber (whose manufacturing requires fossil fuels), also release microplastics which ultimately make their way to the oceans. 
Is all hope lost?
The short answer is no. Various global organizations are fighting to create awareness and raise money for innovative new solutions. For example, Alliance to End Plastic Waste, an organization founded in Singapore in 2020 by 50 global industries, is investing $1.5 billion in creating solutions for collecting plastic waste and recycling into new degradable products. It has launched dozens of projects in many countries. Multiple-use items to replace single-use (about 40% of the total) plastic disposables, are now strongly favoured. New ways to produce degradable plastics, therefore, are being researched all over the world. The United Nations, in efforts to raise awareness, celebrates 'World Oceans Day' (on June 8) every year to highlight how clean oceans are essential for the ecosystem and the availability of more than 50% of our oxygen.
So, you've learnt about jaw dropping numbers, devastating impacts of plastic wastes, and what the environmental "big-guns" are doing to offset the harmful impacts of plastics.
But what can YOU do? 
For starters, you can recycle! Recycling produces lower quality long chain inert polymers, with strong Carbon-Carbon (C-C) and Carbon-Hydrogen (C-H) bonds. For textures and colors, many pigments, heat stabilizers, and flame retardants are added to the resin. These additives get mixed with the polymers and their waste lasts for hundreds of years before breaking down. Researchers at the University of Delaware have taken this principle further and developed a process (hydrocracking) to break down the polyolefins, (which contributes to over 60% of plastic waste), into jet fuels, diesel, and lubricants by breaking the tough C-C and C-H bonds. Platinum on alumina is used as a catalyst, which helps to hasten it (at about 3000C). Further, the Lawrence Berkeley National Laboratory, in 2019 produced a new repeatedly recyclable plastic, Poly-di-keto enamine (PDK), that easily breaks down into separable monomers when mixed with an acid. 
The engineers over at MIT are not stopping here, however, and have spun polyethylene plastic wastes into yarns that can wick away moisture. These wearable fabrics absorb and evaporate water quicker than cotton. Similarly, plant-based plastics, mimicking the spider silk structure (one of the strongest in nature), are the new compostable plastics now being developed at University of Cambridge, using plant proteins from food industry wastages. Another more recent example of plastic reuse is the Tokyo Olympics, where 5,000 ribbons for the medals were made using polyester fiber from plastic waste and 98 podiums for the award ceremonies were made from about two million discarded plastic PET items.
Despite the mind-boggling advances in science, the fact remains that plastic innovations will take time to be commercially viable. Till then, we need to be aware of the great damage to the planet by non-degradable plastics. As such, multiple-use plastic devices and replacement of plastic items by others made from bio-degradable materials becomes even more essential. 
Prof. Surjit Singh Bhatti, PhD
REFERENCES
https://www.sciencedaily.com › releases › 2021/06 
https://newscenter.lbl.gov › 2021/04/22
https://www.downtoearth.org.in › 2021 news 
https://www.sciencedaily.com › releases › 2021/04
Message from the President Saddle Ridge Community Association …