The #1 Internet Technology for Speed & Reliability* is Coming Soon to Your Neighbourhood
As a proud community partner, TELUS has been involved in Alberta communities for over 115 years. This year, TELUS is working in neighborhoods in Northeast Calgary, on an infrastructure upgrade to connect your community to the TELUS PureFibre™ network. In an increasingly connected world, TELUS PureFibre provides leading reliability and speed to keep you connected for work, school, gaming and more.
Over the summer, you'll see TELUS construction teams working in local communities. Following COVID safety protocols, we make every effort to minimize any disruption while working on site. Generally, we conduct our work on public boulevards or within the utility right-of-way in accordance with approved city permits. First, we complete the construction in your community. Once your area is complete, you can place an order to get TELUS PureFibre brought to your home. We will restore your property, returning it to its original condition. You can keep up to date on our local activities by joining our Facebook group at facebook.com/groups/teluscalgary. 
The TELUS PureFibre network is made up of flexible, transparent, durable strands of glass. These fibre optic strands transmit trillions of bits of data every second as pulses of light. Fibre optic rarely degrades and offers incredibly fast and consistent internet with minimal lag or interruption – even during peak hours and on many devices. With other providers' networks, connections switch to copper cable before reaching homes, meaning customers don't see the benefits of a true fibre connection. TELUS is the only major provider in Western Canada with a 100% fibre optic connection, direct to the home.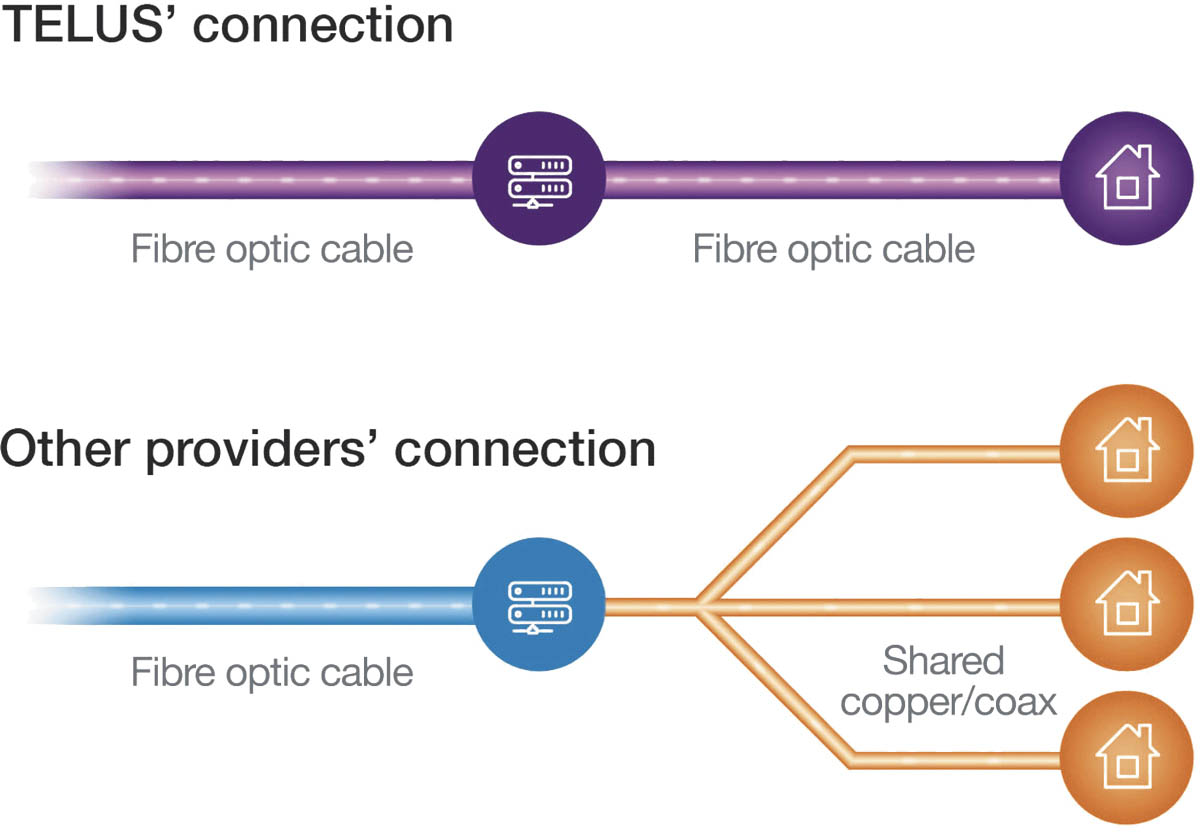 TELUS PureFibre is one of the most advanced communications infrastructures available in the world today. That means that with TELUS PureFibre, your entire family can enjoy seamless connectivity for gaming, streaming and video calls. As demand and connected devices continue to grow, you can be confident that TELUS PureFibre offers consistent and reliable internet connectivity for homes, businesses and essential services.
Learn how to get connected to TELUS PureFibre: telus.com/GetPureFibre. 

* Traditional copper wire or copper wire hybrid networks are subject to capacity constraints and environmental stresses that do not affect TELUS fibre optic technology, which is based on light signals. Not available in all areas.
The #1 Internet Technology for Speed & Reliability* …